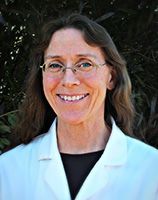 Robin Sutton, DVM
Dr. Sutton is a graduate of Atlantic Veterinary College at the University of Prince Edward Island. Dr. Sutton's interests include Preventative Medicine, Geriatric Medicine, and Rehabilitation Therapy. Dr. Sutton started at Nor Cal Animal Medical Group in 2015.
Kristina Hansson, DVM
Dr. Kristina Hansson's veterinary career began in 2006 when she graduated from UC Davis Veterinary School. She also received her Bachelors of Science degree in Avian Sciences from UC Davis in 2002. Prior to becoming a small animal veterinarian, Dr. Hansson gained valuable experience working in wildlife rehabilitation and as a veterinary technician.
Since graduating from veterinary school, Dr. Hansson has worked in the Bay Area as an associate veterinarian, a relief doctor, and small animal practice owner. She currently resides in Larkspur where she enjoys hiking, bike riding, yoga, cooking, and traveling in her spare time.
Dr. Hansson enjoys all aspects of veterinary medicine, but has a special interest in veterinary dentistry and enjoys helping clients' pets reach their optimal health through preventative and therapeutic dental care.