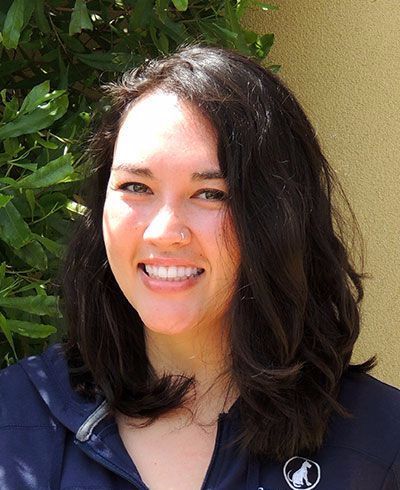 Nicole - Practice Manager
Nicole grew up in Marin County and is currently living in Novato. After graduating from UC San Diego with a Bachelor's of Science in Physiology, Nicole gained experience as a client service manager at a major retail company. She started working at Bel Marin Animal Hospital in 2016 and was new to the veterinary world but always has harbored a passion for animals.
When she's not at work, Nicole likes to spend her spare time reading, playing board games, going to Giants games and playing with her two dogs, Cody and Piper.
Catherine – RVT
Cat was born in SF and raised in Marin County. After graduating from Oregon State University with a BS degree in Theater Arts, Cat took a brief break and then redirected her career path into Veterinary Medicine. Her first job was at Bel Marin Animal Hospital as the kennel technician before quickly realizing she wanted to grow more. Cat was accepted into the AVMA accredited program at Portland Community College for Veterinary Technicians, from where she graduated with her AAS in Veterinary Technology, and achieved her certification as a Vet Tech in Oregon, and more recently as a Registered Vet Tech in California. Cat has practiced in General Medicine as well as Specialty Surgery and Oncology.
Cat recently moved back to the Bay Area to be closer to family. She currently lives with her father and three "furbaby" felines, Duncan, Isabella and Daphne. When not at work you can find Cat either curled up with a good book and mug of tea, cheering on her SF Giants, getting dirty tending her rose garden, sleeping or torturing her "furbabies" by dressing them up in cute costumes.
Allison – Client Service Representative
Allison was born and raised in Novato. She grew up with all kinds of dogs, which helped spark a passion for animals at an early age. She started a career as a licensed cosmetologist in 2011, but switched fields to pursue her love for animals. She has been part of the Bel Marin family as a Client Service Representative since 2017, and has loved every minute of it!
Megan – Client Service Representative
Megan was born in Rohnert Park, CA. She joined the Bel Marin family in June 2018, and is new to the veterinary industry but has always had a love for animals, especially cats and dogs. She comes with 8 years of customer service experience in various fields. In her free time, Megan spends time with her husband and 2 dogs. They enjoy going to hockey games, spending time with family, and doing outdoors activities, like riding ATVS, swimming, and barbecues.