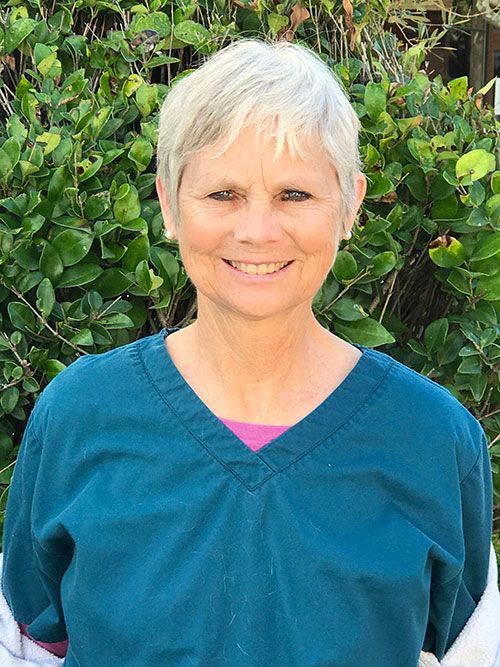 Gail - RVT
Gail graduated from Purdue University from the Veterinary Technology Class, with distinction. She has worked as an RVT for 20 years in small animal hospitals and in emergency veterinary hospitals. She earned her USDF Gold Medal and is also a USDF-L judge. She gets great enjoyment from her three Shar-peis that she rescued and she fosters Shar-peis for Pei-People Group. Gail says, "Blizzard, Tally, Felix and I have our many wrinkles to share together!"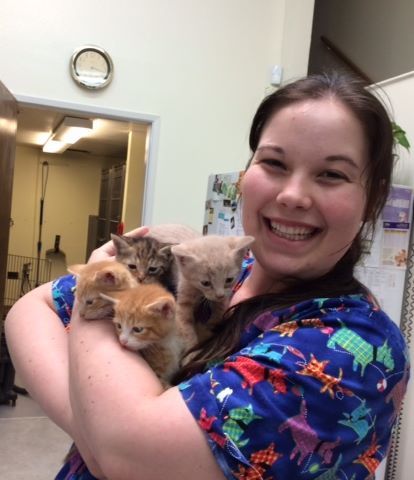 Emily - Reception/Vet Assistant
Emily joined the staff in 2014, and has quickly become part of the family! She is originally from Southern California and graduated from UC Davis with a B.S. in Animal Science. She currently lives in Cotati and has cats, a dog, a fish and a hamster. In her free time she can be found volunteering with events in Cotati, but particularly loves being involved in Oktoberfest. She also spends time hiking, camping or biking.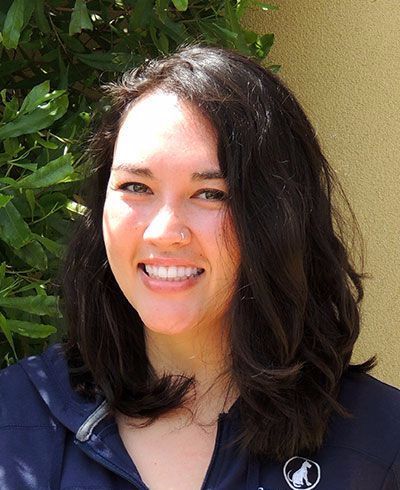 Nicole - Client Care Supervisor
Nicole grew up in Marin County and is currently living in Novato. She started working at NorCal Animal Medical Group in 2016 and was new to the veterinary world but always has harbored a passion for animals. After graduating from UC San Diego, Nicole gained experience as a client service manager at a major retail company. Nicole likes to spend her spare time going to concerts, going to Giants games and playing with her three dogs: Riley, Cody and Piper.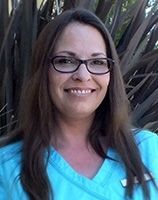 Cari - RVT
Cari was born and raised in the Bay Area and has worked in veterinary medicine since 1993. Through the years she has gained hands on experience in emergency, specialty surgery and preventative medicine services. Currently Cari is finishing the final steps to become an RVT. She moved to Novato in 2011 with her two sons and her K9 daugher Sister Grace. While living here she has enjoyed volunteering at Guide Dogs for the Blind, hiking, kayaking, and attending many art, music and theater events. Cari joined Nor Cal Medical Group in 2015.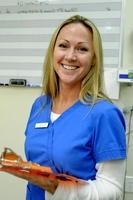 Kelly - RVT
Kelly is a Marin County native who had been a local restaurant manager for many years. She started at NorCal Animal Medical Group in 2014 and is currently working to become a RVT at the Santa Rosa Junior College in order to pursue her true passion of working with animals. She loves snowboarding, running and spending time with the people she loves (including her kitty Mikki).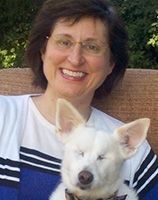 Andrea - RVT
Formerly a human resource professional, Andrea then completed her AA degree in Veterinary Technology from Yuba College in Marysville in 2009 and obtained her RVT license later that same year. Since then, she has worked in a variety of veterinary settings including private practice, non-profit clinics and shelter medicine. She and her dog, Blanca, (pictured) are a certified therapy team for Loving Animals Providing Smiles (LAPS) providing animal assisted therapy visits to senior communities. In addition, she volunteers as a veterinary technician for field clinics of Compassion Without Borders and the Humane Society Veterinary Medical Association's rural area vets program. Andrea lives in Napa with her husband, 2 dogs, 3 cats and occasional foster felines. Andrea has a special interest in veterinary dentistry.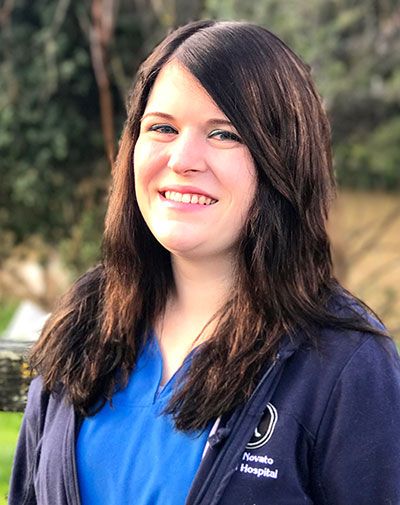 Ashley - Assistant
Ashley started with Nor Cal Animal Medical Group in 2016. She has been a veterinary assistant since 2012 and has working/helping animals in shelters for nearly a decade. Ashley comes from a family who has worked in the veterinary field and has encouraged her to work with animals ever since she was four years old. She is currently planning to go back to school to become a registered veterinary technician. Ashley has two kitty cats, one is a 4-year-old Siamese and the other a 15-year-old Tortoiseshell and she also has a daughter. When she's not working, she likes going for walks and enjoying nature, and of course helping animals.